Named after Loretta Lynn the actress-singer-songwriter, Loretta fondly remembers her beach days with her big sister, Violet. Loretta chased Violet who chased the ball, and the tired pugs would snuggle their whole way home. One year she dressed as a Pirate Pug to be the mascot of  Homo A Go Go, an annual show her Mom Corrie and Dad Ed put on.
Mom Corrie says that her best trick is "the alien noises she makes as she gets excited whenever we say 'Party'!" She can be a handful and Mom Corrie warns petsitters of remarkable skill as an escape artist. Loretta has been known to run away to the neighbor's house repeatedly because she knew they would feed her kibble!
About this Portrait
Jennifer says, "Loretta–a very small little pug–had so much personality that she immediately demanded a large canvas. I loved illustrating the dashes of mischievous in her eyes–you can see her plotting her next escape!"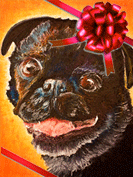 Expand your family!
Limited Edition Signed Giclee Print
Also called archival pigment prints, these longest lasting prints are made by printing pigment on acid-free cotton rag. 16 by 20 inch print.
Custom professional framing available.
Tote bags, clocks, t-shirts and more at the