Mini Australian Shepard Karla loves tennis balls so much that when she saw an elderly person on a walker with four tennis balls used at the bases, she thought she was in dog heaven and crouched down ready to chase! Dad Mark happily lets Karla finish his leftover cereal–one of Karla's favorite treats. Mom Carol respects Karla's commitment to playing fetch, but grimaces when she remembers when Karla chased a ball over a ledge and landed 8 feet down with a bang and a tooth through her lip!
About this Portrait
Jennifer says, "I had a photo of Karla looking off into the sunset, covered in sand, and exhausted after a long day of fetch and swimming. The love and excitement in her eyes perfectly reflected her love of her family, and was indispensable to this pet portrait painting."
Expand your family!
Limited Edition Signed Giclee Print
Also called archival pigment prints, these longest lasting prints are made by printing pigment on acid-free cotton rag. 16 by 20 inch print.
Custom professional framing available.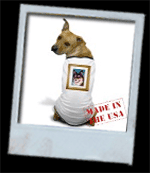 Dog T's, clocks, t-shirts and more at the