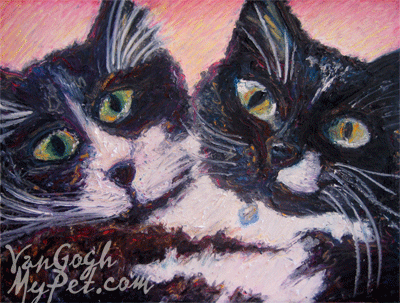 Lulu (left) and Baby (right) are of the esteemed breed "Cute" and "Fluffy". Mom Madeleine remembers fondly what a wonderful mother Lulu was to Baby, and how she wouldn't let him out of her sight! To everyone's surprise, later in life, Baby rocked a mohawk. Madeleine recalls, "For some inexplicable reason, Baby couldn't stop licking his flanks until he was completely bald except for a strip down his spine. Though I don't know what caused this, Baby was just as chatty, hungry and affectionate as always. Eventually this passed." Lulu and Baby spend their time following Madeleine around and meowing their extensive daily reports.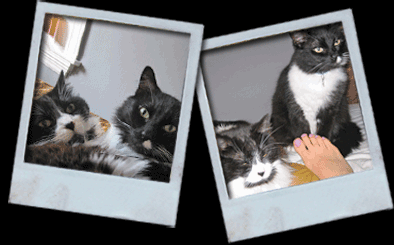 About this Portrait
Jennifer really enjoyed portraying the family dynamic. She says, "Painting black and white pets is always challenging, but with Lulu and Baby, their relationship gave them so much color, the portrait almost painted itself!"
Expand your family!
Limited Edition Signed Giclee Print
Also called archival pigment prints, these longest lasting prints are made by printing pigment on acid-free cotton rag. 16 by 20 inch print.
Custom professional framing available.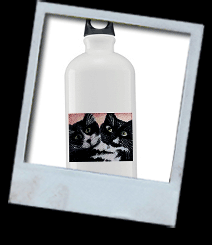 Water bottles, greeting cards, aprons and more at the