The first time Quentin braved the inside of a car, he crawled up inside the steering column. Mom Heather had to get tools and remove pieces of the paneling to get him out! She wishes that was the only time she had to turn to tools to rescue him! She jokes that they met on E-Harmony, where he advertised himself as the "squishiest, smashiest, purringest kitty in all the land" and neglected to mention his habit of swiping at her calves with claws out.
About this Portrait
They say that eyes are the window to the soul, and Quentin's gaze proves the rule. Jennifer says, "I wanted the viewer to look in those eyes and see them searching for where and how he should get into trouble next."
Expand your family!
Limited Edition Signed Giclee Print
Also called archival pigment prints, these longest lasting prints are made by printing pigment on acid-free cotton rag. 16 by 20 inch print.
Custom professional framing available.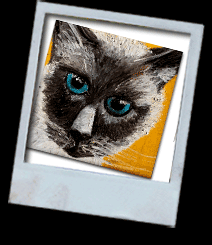 Tile coasters, dog t-shirts, throw pillows and more at the