About this Pet

Mom Tamar loves to recall the first time Felix saw horses when walking in Carmel's Halloween pet parade. Struck by their great size, he stopped dead in his tracks and watched as the horses passed–and then expressed his enthusiasm in barks and jumps. Felix loves to go outside and smell the flowers–a task he deems worthy of rewards. His love for treats and the outdoors melts Mom Tamar's heart.
About this Portrait
According to Jennifer, "Felix's spirit jumped off the canvas. I enjoyed portraying how light bounces off the contours of fur, and, especially, his smile. His smile lit up the portrait, just as I know he lights up any room lucky enough to have him in it!"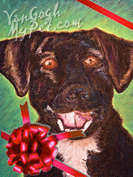 Expand your family!
Limited Edition Signed Giclee Print
Also called archival pigment prints, these longest lasting prints are made by printing pigment on acid-free cotton rag. 16 by 20 inch print.
Custom professional framing available.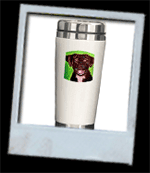 To go mugs, clocks, t-shirts and more at the