Fence Cat's gritty determination to be commemorated in a portrait was evident throughout the Pets Amore Love Story Contest. Perhaps from having grown up on the mean streets of Oakland, she had what it took to surpass her competitors' votes in the final stretch of the competition. Read her winning love story and check out the competition.
About this Portrait
Fence Cat's wily personality is evident in her untamed and colorful curls. Jennifer says, "I feel as I know Fence Cat so well after watching her friends and family pour in the votes during the preceding contest. Though I was personally heartbroken that all the pets couldn't win, I relished capturing her curls and stern gaze."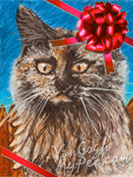 Expand your family!
Limited Edition Signed Giclee Print
Also called archival pigment prints, these longest lasting prints are made by printing pigment on acid-free cotton rag. 16 by 20 inch print. Custom professional framing available.
Tote bags, clocks, t-shirts, undies and more at the