Kate is known for chasing rodents and sensing ghosts–what else could she have been barking so late at night? Named after an attractive female character on the classic show Growing Pains, Kate was owner Matt's first love, once kissing away his tears from a broken heart.
Kate met Matt at a pet store on his 10th birthday. Matt fell in love instantly and asked his parents to add her to their family. Back then she was black, brown, grey and blond in splotches all over. After they brought her home and she lived with them for awhile, her hair turned golden blonde.
About this Portrait
Jennifer explains, "Matt shared that his favorite memory is how he would let Kate lead him along on walks. Here Kate is eagerly awaiting a walk, as she should be remembered. I enjoyed portraying the color and her grace in each lock of her wild hair."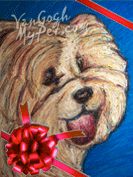 Expand your family!
Limited Edition Signed Giclee Print
Also called archival pigment prints, these longest lasting prints are made by printing pigment on acid-free cotton rag. 16 by 20 inch print.
Custom professional framing available.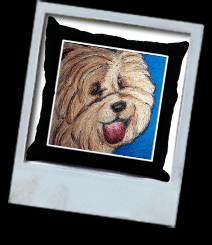 Pet dishes, mugs, water bottles and more at the